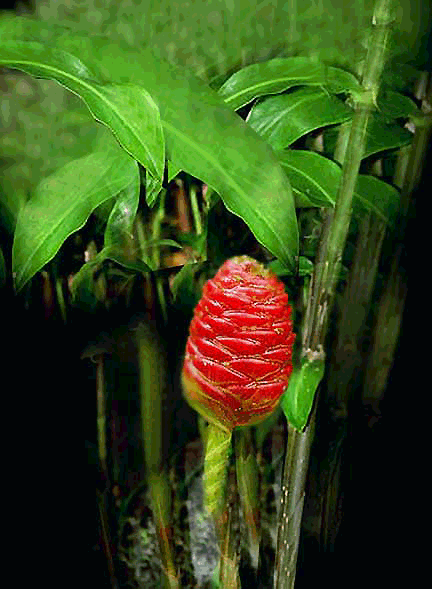 Zingiber zerumbet
Rose. ex Sm.
Shampoo Ginger, Pinecone Ginger, Opuhi
My grand daughters love this ginger! Every time we have one in bloom they want to squeeze it to death. Literally!
The bright red bracts of the Zingiber zerumbet inflorescence exude a wonderfully thick liquid with an equally wonderful fragrance. And, in fact, the liquid makes an excellent shampoo, thus a common name! Several cosmetic manufacturers use the plant species as the basis for some of their high priced "botanical" shampoos due to itís texture, usefulness, and fragrance.
In the wild the plant can grow as tall as seven feet, Iíve never seen it grow past five. In the beginning the "pinecone" is raw apple green with tiny white flowers, but it slowly changes color to a brilliant red as the inflorescence matures. According to TROPICOS, a service of the Missouri Botanical garden, Zingiber zerumbet is a native of Madagascar. The plant is now grown throughout the tropical world.
In some countries the plant is used for medicinal purposes. In Polynesia the "opuhi" is used as a natural remedy for both tooth and stomach ache. Iíve never given either a try! The plant is definitely tropical but can survive into Zone 8. It does not like freezes!
Zingiber zerumbet will grow well in full sun and partial shade as long as it is watered often and kept in well drained soil. Florists sometimes use the inflorescence as a cut flower. At the end of the bloom season, when the inflorescence vanishes, so does the entire plant! It goes dormant and you won't see it again until spring when the cycle begins again.