A Private Botanical Garden
At the end of each page please click on the small photo to see more of the garden.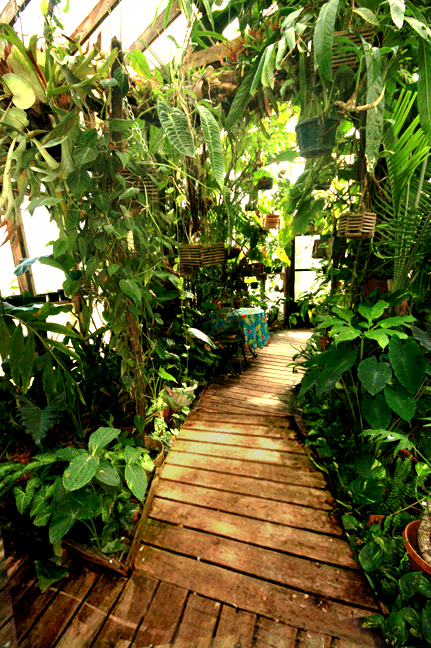 W

hen you enter the Exotic Rainforest this is the first sight you will see.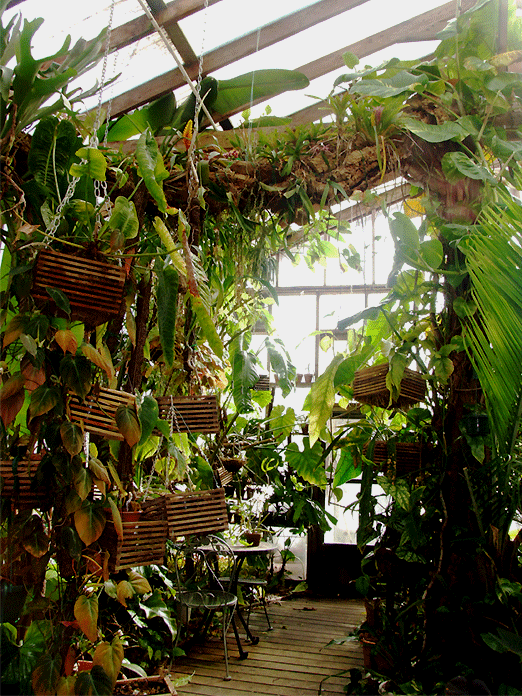 The Exotic Rainforest in Northwest Arkansas is the only rain forest exhibit in the state where any visitor can walk through a living tropical forest without charge accompanied by a guide who has studied the species within the collection. A guest once said it "looks like Costa Rica under glass".

Don't let the photo fool you, the atrium is not enormous. The entire structure is not quite 8 meters by 8 meters (24 feet by 24 feet) with a 5 meter (16 foot 4 inch) ceiling at the highest point. Constructed in 2002, it is large enough to house a large rare plant collection that grows just like a natural rain forest with a controlled humidity of never less than 85%, controlled temperature never lower than 12.75 C (55 degrees F), and automatic overhead watering. The collections includes many species that have either reached or are approaching their natural adult rain forest size!

A large number of the plant species are naturally planted including exotic orchids and tropical species including flowering trees are found in the garden along with those growing naturally on an epiphytic tree above your head just as you would see them in South America! In one area is a group of full grown banana plants that have produced delicious fruit more than once along with a pond and almost 19,000 liters (6,000 gallons) per hour waterfall.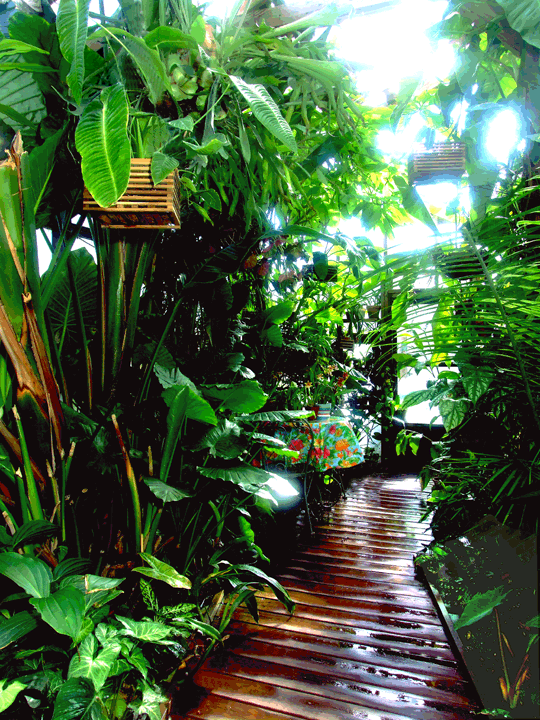 Large Philodendron as well as Anthurium species with almost 2 meter (6 foot) spans hang from the ceiling creating the sensation of walking beneath a rain forest canopy. Additionally, the walls are lined with hanging baskets do you feel as though you are actually walking in a South American rain forest. To add to the sensation you'll hear the sounds of naturally falling water as well as exotic birds recorded in the rain forest. The birds sound as though they are flying just overhead and in the distance you'll hear the soothing sounds of Ecuadorian pan flutes.
The center post has a scarce hanging Cercestis mirabilis, the African Embossed Plant,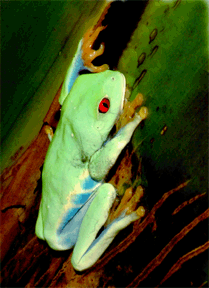 along with numerous Anthurium species, rare ferns, Philodendron species and other exotic species on all four sides. A large leaf Philodendron sagittifolium covers the entire post and has now almost reached the ceiling. Close to 300 species of rare plants can be found throughout the building with many very large specimens hanging from the ceiling. The plants appear as comfortable in the Exotic Rainforest as they would in South or Central America since they frequently produce colorful inflorescences in the spring and fall.

Although often difficult to locate, among their leaves you'll find 3 species of tropical tree frogs as well as a few small green lizards known as anoles. A beautiful Blue and Gold Macaw named Wizard also resides in the atrium. The large pond with moderately large fish is immediately to the right of the walk just out the kitchen door and all this is in the backyard of colonial home built in 1890 in a small Arkansas town. We've hosted up to 60 visitors in a single day due to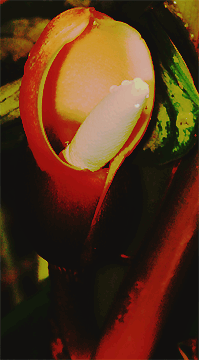 several tours offered by garden clubs and groups of home schooled students. The Exotic Rainforest is not a business, it is a private botanical garden and there is no charge to visit.
The Exotic Rainforest website was created to catalogue and describe the plants in the collection. Every attempt is made to be certain our plant descriptions are scientifically accurate, however, I am not a botanist. Instead, I am a retired commercial photographer who takes pleasure in showing each plant as best possible in the photographs on this site. To ensure accuracy I have developed a network of contacts who are well known botanists and seek their advice or consult scientific journals on all plant subjects. You will find many quotes from recognized scientific authorities on the pages of this site. Very little information on this site is collected from the internet since much of that information is not verified and is often inaccurate. If you believe find an error on this website please make it known. We do however verify the accuracy of any recommendation before posting corrections since the world of horticulture is filled with inaccurate information.
Our goal is to be accurate but do it in a manner anyone can understand. If you are a return visitor you will notice this site is updated almost daily. Many aroids and other genera in the collection have yet to be described and photographed since we add new specimens almost every month. In June of 2009 we brought back more than 20 scientifically collected specimens that were made available to us from the Missouri Botanical Garden collection in St. Louis, Missouri and in September of every year we make a trip to Miami, Florida for the annual International Aroid Society Show to acquire new specimens collected in South American rain forests. Our collection is now one of the largest in mid-America and has been featured in one national magazine article.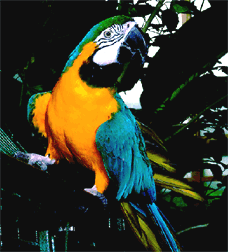 One website visitor from London said in an email, "if you sense somebody sat on that seat in the atrium it's probably me"./ You'll see our bench later in this presentation by simply following the "trail" through the forest by clicking the last small photo on each page.

So if I can tell the bench seat is warm the next time I sit there I'll know someone, perhaps you, has visited! You are welcome to share our park bench anytime via the net or in person. All we ask is a call before you come.
The garden is open to the public free of charge. You can find a map on the homepage of this website. Schools are welcome to use the garden as a rain forest teaching tool. If you would like to continue the tour now just follow the links at the bottom of each page by clicking on the smaller photo. Or, if you are seeking a particular plant species click on the link below to be taken to the list of species currently described. Please visit!


Follow the trail by clicking on the photo to the right.
Steve & Janice Lucas
Siloam Springs, Arkansas

You can follow a "trail" through the rain forest. Click the small photo to the right.
See a list of the majority of the plants in the Exotic Rainforest Collection