Published to science in 1858 in the German publication Gartenflora, when we brought our Ryder Truck filled with plants from Miami to Arkansas in 2001, I elected to leave all our
Strelitzia nicolai,
or
White Bird of Paradise in Florida. It wasn't that I didn't love the large clusters of plants in my yard, I simply knew they were commonly available, even in Arkansas at Wal-Mart! Once the atrium was ready to plant in 2002 it was already late Fall and we began to check with local stores to locate our Bird of Paradise. One near us put them on sale for $4.00 so we bought all they had. Those were 1 meter (3 feet) tall. By 2007 they, and another cluster in a different location in our Exotic Rainforest, had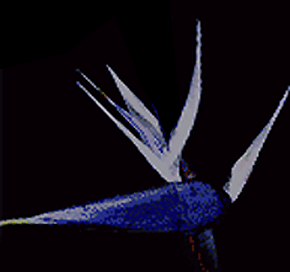 grown to as tall as 5.2 meters (17 feet), and were still growing! We were forced to finally remove approximately half of the plants because they were literally bursting through the ceiling of the atrium!
I've seen Strelitzia nicolai almost 7.6 meters (25 feet) in height at Fairchild Tropical Botanic Garden in Miami, FL. The highest place in our atrium is only 5.2 meters (17 feet). If Strelitzia nicolai reminds you of a banana tree, it should. The plant is a close relative. After 3 to 4 years of growth they begin to produce a beautiful white "bloom" (inflorescence) which resembles a white bird in flight. Thus it's common name. The photos of our plant and inflorescence are drawings done in our atrium.